Trends, as time passes, change and evolve with society. In the world of cosmetics it's very important to be up to date in order to create the best products for your consumers. In this post, we'll talk about 5 trends in cosmetics that will help to know what is the current fashion in this sector:
Personalization and social impact
There is nothing that attracts more attention than a brand that breaks the schemes, and that is why the signature of the famous singer Rihanna has gained many followers since its creation. The launch of Fenty Beauty has highlighted the importance of inclusive marketing and has revolutionized the world of beauty. Users are constantly looking for a brand that gives them confidence, that approaches them in a non-aggressive and humane way, and that can be transmitted thanks to a good product and its packaging.
Personalization and inclusion is a growing factor among consumers, who demand exclusive products adapted to their needs (different, unique and novel packaging). But the reason this collection has been so acclaimed is for its 40 base shades, one for each skin type and color. This caused such a stir that in 2017 he was awarded a spot on the Times "Top 25 Inventions list". Each base was accompanied by transparent packaging that showed the content of the interior, making each shade easily identifiable and different from the others.
"When Rihanna launched the first Fenty Beauty products, the world went wild. I was especially fascinated by the packaging. Novel, elegant and beautiful. " – Blanca del Río, editor at ELLE.
With this example we realize that consumers are looking for products that adapt to them in an almost personalized way. The job of packaging is, in all cases, knowing how to transmit the brand's values ​​to the user at a glance.
Sensory packaging is one of the models of the future. It is about seducing through small details, such as adding materials to the caps, using scented labels, or using innovative printing techniques. This is intended to connect with the consumer through a new shopping experience that involves, above all, sight, smell and touch.
This type of packaging comes from ecommerce, since its purpose is to provoke a reaction when the user receives the package and opens it. As the product is purchased at home, the consumer does not receive that touch of attention about the brand that could exist in any store, nor a personalized / physical treatment. That is why the first moments in which the product comes to be in your hands, are essential to make a good impression. Stimulating the senses and creating an exciting environment is possible thanks to the packaging, which has previously been conceived and designed for that function.
Multisensory communication can be achieved in many ways, appealing to the sense of touch (with materials such as cardboard, cork or metal) or emphasizing others such as taste or smell (adding some candy or perfume to the package).
Be that as it may, well-crafted packaging always attracts the user, but an innovative and unique experience remains in her memory. In order to qualify for repeat purchase, it is essential that we come to surprise our consumer, what better way than by attracting all their senses?
This trend has been a few seasons in the top, because taking care of the planet would never have to go out of style. Thanks to the increase in awareness at brands, we see more and more sustainable packaging in our orders or purchases. In addition to companies, many consumers prefer more eco-friendly products, which can be achieved with good packaging.
There is a lot of variety in terms of materials, but the consumer's favorite is undoubtedly cardboard. According to the study "Perceptions of Cardboard Packaging and Packaging in the European Consumer", we have been able to recognize this material as the most sustainable for 52% of the European population. In addition, 81% of the Spanish population takes into account the environmental impact of the packaging of their products, so the purchase decision will depend on the material used in the packaging.
Cardboard is therefore a very good packaging option and many companies have started using it on a regular basis. In addition to being sustainable, it also has many other advantages: it is resistant but light, economical, versatile and customizable.
Although it seems less innovative, this material is capable of protecting products in a simple but effective way, and provides the eco-friendly touch that all companies are looking for. It is never too late to give your packaging a good makeover and become your perfect ally against plastic.
Practical packaging and "to go" formats
A fast life requires products that adapt to it, that's why one of the most innovative trends of the moment is based on "on the go" fashion. For some time now, this concept has been present in the gastronomic sector, but cosmetics are also getting used to.
Many times we can see small formats of creams, makeup or gels that are commonly used for travel, but it's increasingly common to find consumers who are looking for it for their day to day. In a society where efficiency and immediacy are the order of the day, there can be no lack of beauty products that provide us with that need.
Therefore, one of the most successful trends is that of the reduced format: small and compact packagings that can fit in any pocket, bag or even purse. The cosmetic "On the go" has to be easy to apply and all its packaging is designed so that the product is comfortable, simple and very precise.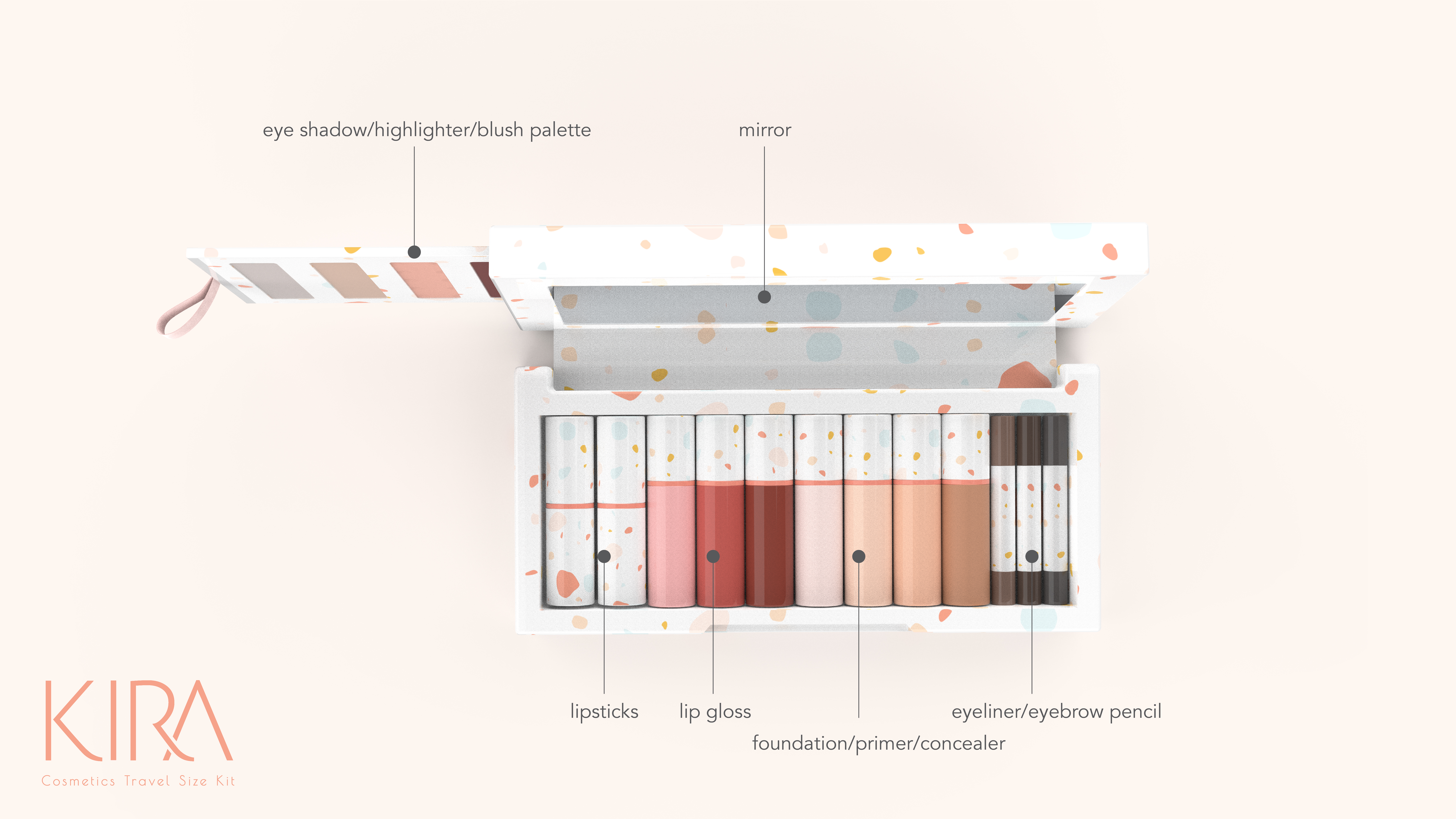 The concept of portable and multipurpose cosmetics will mark the future of these products and their packaging. Reinventing, adapting and modifying is essential for a company to flow with the daily lives of its consumers.
Packaging designed for the millennial public.
Attracting the millennial audience is quite complicated, since its large consumption of content sometimes makes a lot of information go into the background. Being 50% of world consumption, they are the most coveted target by companies, and that is why it is important to stand out above your competitors before them.
In the packaging world, a bold and eye-catching design can work, but it must be accompanied by added value if it is to succeed at all: Limited Edition products usually make a very good impression on consumers, and even more so if they have a message or cause behind.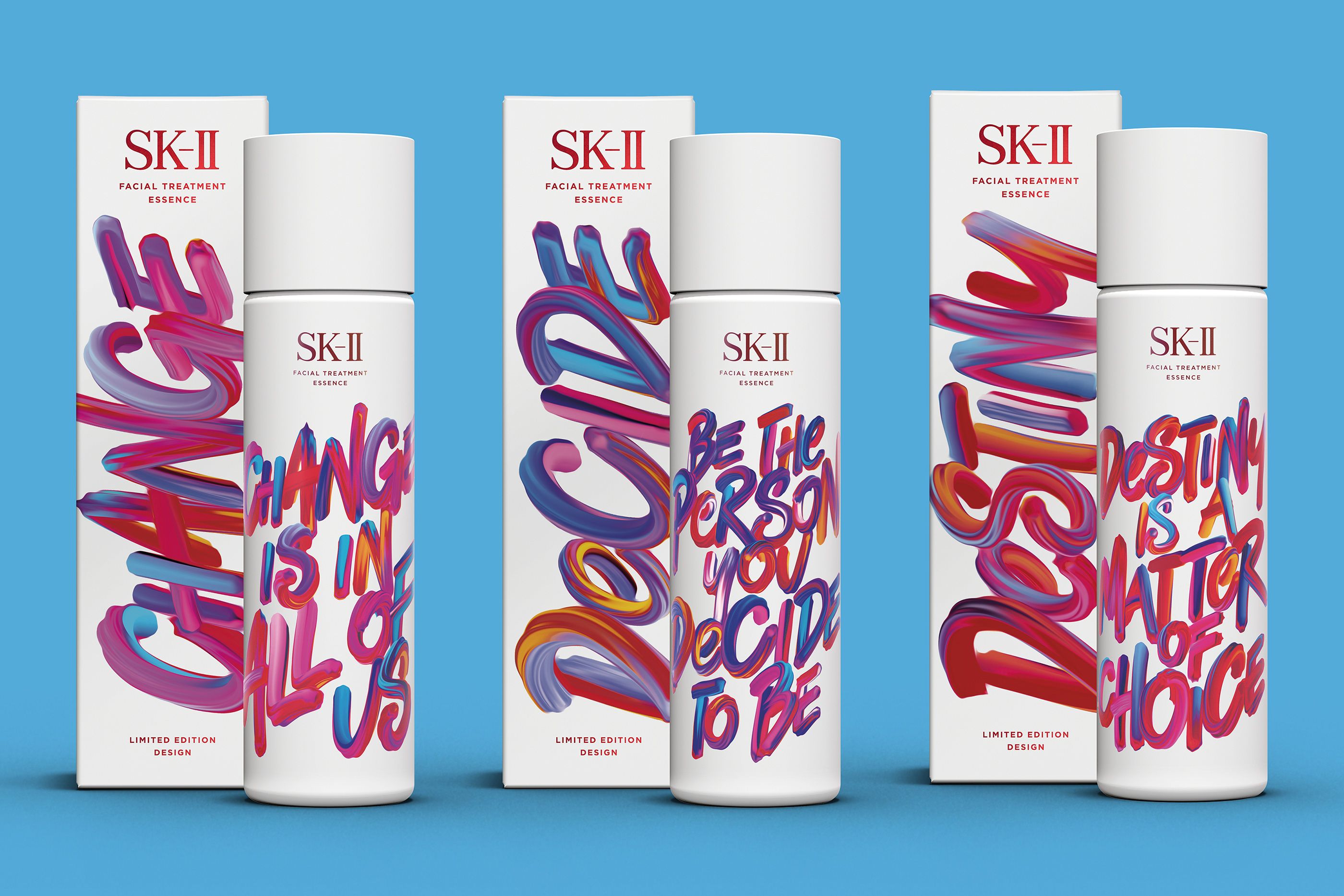 In this case, the LOVE agency wanted to design a limited edition packaging for the SK-II luxury cosmetic brand. The mantra-like messages that can be read on each bottle serve to empower and inspire users to feel secure in their own skin. These three bottles highlight the individuality of each consumer, who reminds them daily that they are unique. In addition, very striking and energetic graphics have been used. The perfect combination for this packaging to be remembered and repeated!